Diocese of Rupert's Land • Anglican Church of Canada

Serving God
and the community
since 1889
To make a secure online donation to St. Luke's, click HERE.
History of St. Luke's Bells
A chime of eight bells was purchased from the English company, Messrs. Mears and Stainbank, by Mr. and Mrs. A.M. Nanton. The bells are named LOVE, JOY, PEACE, LONG SUFFERING, GENTLENESS, GOODNESS, and MEEKNESS. They are tuned to the key of E-flat. The largest - the tenor bell - weighs 2500 lbs.
The great bell (or tenor bell) is inscribed "To the glory of God and in loving memory of Mary Louisa Nanton and Thomas Clark. This chime of bells was presented to St. Luke's Church in Winnipeg by their respective families, 1910." The bells rang out for the first time on Sunday, January 29th, 1911.
The chime is manually operated except for the tenor bell which is, in addition, motor driven, used as a tolling bell; e.g. at funerals, the bell is tolled to indicate the age of the deceased.
In the spring of 1911, the tower clock with faces on the north, west, and south of the tower, was put in place and uses the bells to sound the quarter hours with a Westminster chime.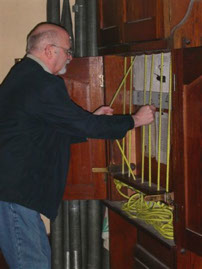 Prior to installation - 1910 - Church steps.
Ringing a chime at the rope console.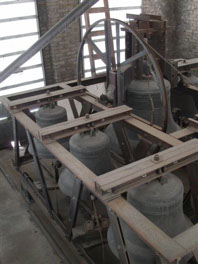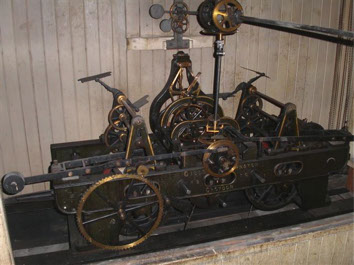 Five of the eight bells including the tenor tolling bell (on the wheel), on the fourth tower level.
The clock mechanism - on the third tower level.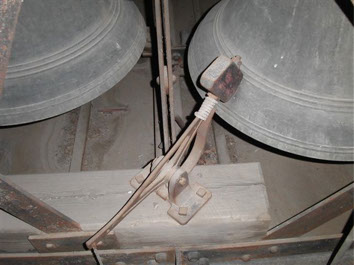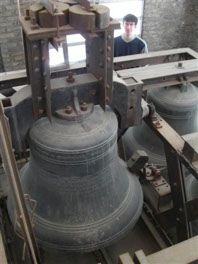 A striking hammer for the clock (Westminster) chime.
The tenor (tolling) bell,
viewed from above.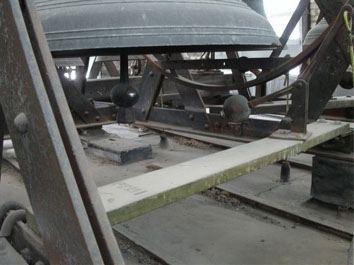 The tenor (tolling) bell, clapper,
and the round-headed chiming hammer
If you would like a tour of the tower (rope console, clock, bells),
contact the Organist and Choirmaster [E-Mail].
The Parish Church of St. Luke
130 Nassau Street North
Winnipeg, Manitoba
Canada R3L 2H1
© 2023 The Rector and Corporation
of The Parish Church of St. Luke