Diocese of Rupert's Land • Anglican Church of Canada

Serving God
and the community
since 1889
To make a secure online donation to St. Luke's, click HERE.
Manitoba Provincial Heritage Site No. 96
St. Luke's Anglican Church
130 Nassau Street North,
Winnipeg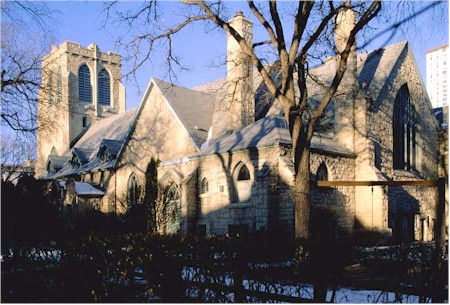 Designation Date: February 13, 1997
Designation Authority: Honourable Rosemary Vodrey,
Minister of Culture, Heritage and Citizenship
Present Owner: The Anglican Church of Canada, Diocese of Rupert's Land
By the turn of the century Manitoba was into its boom years. The province was wealthy and ambitious and architectural projects abounded. Churches were a special focus for this activity, and St. Luke's Anglican, from 1904–05, is an exceptional example of design following the Gothic Revival style. The main building was designed by Winnipeg architect C.F. Bridgeman while the attached parish hall was designed by Winnipeg architects Woodman and Carey and constructed in 1913–14. The glories of the building are not confined to its exterior. The church is noted for its stained glass windows and wood carving. The Toronto studio of Robert MacCausland and Co. produced most of the glass in the nave, with one special window constructed by the world-renowned English firm of William Morris and Co. The carved wooden rood-screen is a magnificent example of craftsmanship, designed by parishioner and architect C.E. Chivers. Behind the font is the first wood carving executed by artist Leo Mol.
Government of Manitoba - Historic Resources website
The Parish Church of St. Luke
130 Nassau Street North
Winnipeg, Manitoba
Canada R3L 2H1
© 2023 The Rector and Corporation
of The Parish Church of St. Luke